About Laura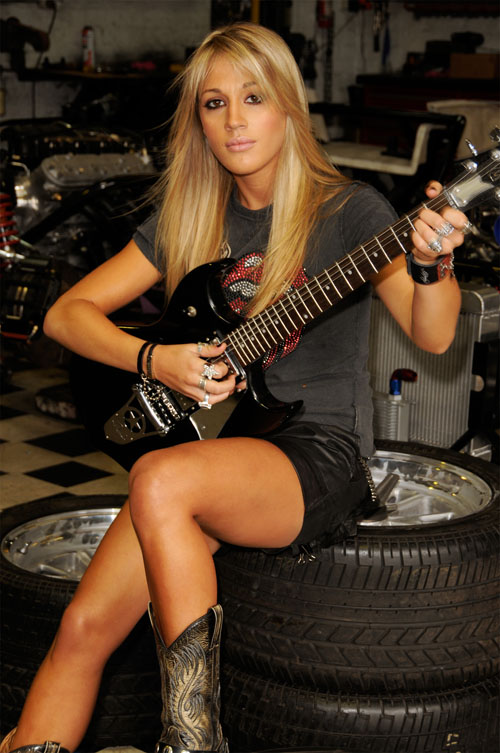 Laura Wilde is a 23 year old, driven by her obsessions. Her love of musical instruments and her fascination for old-style blues and rock music has resulted in her being invited to open for such artists as diverse as Fuel, Shinedown and Ted Nugent.
Originally from Melbourne Australia, her talent on both guitar and bass quickly made Laura a heavily sought after musician which led to work with a who's who of Australian artists. She also worked for a time as a presenter on Beat TV as well as being part of the house band of Australia's Got Talent which brought her much recognition. "That was all great experience," Laura admits, "but I'm a songwriter and a musician and I wanted to play my own music."
When she was 18 years old, Laura went out on her own 22 show tour, attended university, continued her session work, held down a job at a local guitar store and even played a private acoustic show for the Saudi Arabian royal family.
At 19, she moved to Los Angeles, and began work on her debut album, Sold My Soul, which earned Laura great respect and strong reviews.
Released in 2012, Sold My Soul, features Laura's trademark brand of rock. With songs like "Irate", "For You" and the title track and first single
"Sold My Soul",  the album showcases Laura's talents as both a singer and guitarist. Her playing style reflects the musical dexterity of many of her biggest influences, including Suzi Quatro, Slash, Jimi Hendrix and Jimmy Page.
Laura will be entering the studio later this year and has some exciting guests scheduled to make an appearance.
When their hectic touring schedules allow them both the time, she will be writing a song with Geezer Butler from Black Sabbath and is hoping he may even produce a track or two.
Recently Laura received many accolades and rave reviews having just completed over 50 tour dates across America during the summer of 2013.  Here fans saw Laura play arenas, theatres and clubs across the USA.
She also recently earned the title of 'Best New Female Artist' and was honored at the 'Vegas Rocks Music Awards 2013′ with the legendary Zakk Wylde and DJ Ashba.
Laura is presently preparing for her UK tour where those across the pond will get to experience what many in the US are already warmly embracing.